Over my career, I've hired nearly a hundred product managers and interviewed thousands at both startups and established companies like Facebook, TripAdvisor, Tinder, and Microsoft. Product management has always been a difficult role to hire for. It is a rare role that requires excellence at opposite ends of many spectrums.
In the best of times, hiring exceptional product managers is a bit like chasing unicorns. Today, it's like chasing winged unicorns — over Zoom.
Hiring the right product managers is more important than ever. The COVID-19 pandemic is changing consumer behaviors faster than any time in the history of the Internet. Companies and product teams need to adapt rapidly — or they face the very real threat of extinction. Failure isn't an option.
But, hiring product managers remotely seems like an impossible mission. PMs are often the glue on their teams. How do we assess whether a candidate has the skills we need and the gravitas to lead a team they've never met? How do we do all of that without ever meeting them ourselves?
The good news is that it isn't impossible. Fully remote companies have done this for years, and they have even found some advantages. Remote hiring is:
less prone to the biases that lead to poor decisions and a lack of diversity
cheaper (for both you and the candidates) due to less time spent on travel
faster due to less waiting for schedules to align
You can source, interview, hire, and onboard exceptional product managers and product leaders without ever meeting them in person. To succeed, you must take a more considered and formulaic approach to the hiring process. This consistency is essential to circumventing the challenges inherent in remote hiring. The rigor will not only help you hire remotely; it will improve your overall hiring practices as things return to normal.
Let's look at the 8 principles of hiring great PMs remotely: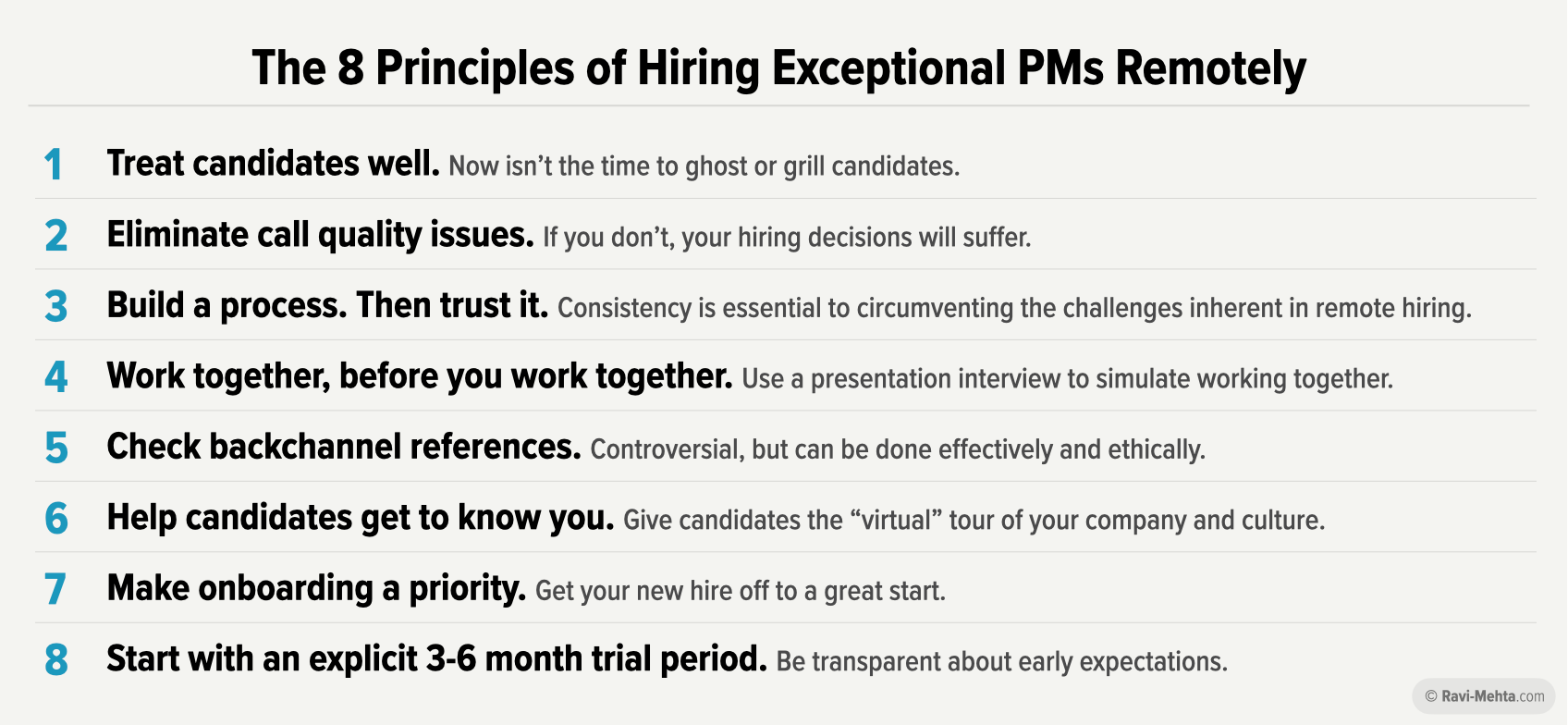 ⭐️ Treat candidates well.
You are doing important work as a hiring manager. You are helping your company, its employees, and its customers by bringing in the best people to navigate the most challenging time we've faced in recent history.
Just as importantly, you're playing a vital role in the community. You are helping keep as much of the economy moving as possible and giving candidates hope for what's around the corner.
This has been a challenging time for everyone. It's more important than ever to treat candidates well — it's good for your company's brand, and it's the right thing to do.
But, this isn't always happening. I've heard from candidates that the interviewing experience is poor right now. This adds an extra, unnecessary level of anxiety and uncertainty.
Here are some easy steps you can take to deliver a stellar candidate experience:
Don't ghost. Commit to responding to all applicants. If a person isn't a fit, save their time and energy by promptly sending a kindly-worded response (even if that response is automated, it will feel more personal than no response at all).
Don't kick the tires. Interview candidates only for roles that you are committed to filling. This isn't the time to be putting effort into at-risk or nonessential roles.
Try to provide feedback. Whenever possible, provide specific, actionable, and kind feedback. Even if someone isn't the right fit for your company, you'll be doing the right thing by helping them come away from the process hopeful about their prospects.
Interview positively and personally. During the interview, set aside a few minutes to ask how the candidate is doing and get to know them personally. Be understanding of interruptions. Leave time for questions.
🎧 Eliminate call quality issues
I know this sounds basic, but it's important and all too easy to ignore. In a recent survey, 40% of participants said their meetings were impaired by poor audio or video quality issues.
Call quality is the single point of failure for your interview process. As soon as call quality suffers, the quality of your hiring decisions will suffer.
Interviewers don't need a home vlogging studio. Provide them with a few simple guidelines (and be willing to cover reasonable costs for equipment interviewers need to conduct high-quality interviews):
Don't use your computer's internal microphone and speakers. They're made from cheap components, and they are too close together to be effective.
Instead, use a pair of headphones with a microphone built-in.
Check your wifi speed with something like speedtest.net. Zoom recommends 1.2 Mbps upload/download speed for HD video.
– If the speed is poor, move closer to your router.– If the speed is still poor, consider updating your router. Wifi mesh routers have gotten much less expensive.– Some routers have a "priority device mode." Use this during video interviews to prioritize your device over your spouse's Netflix stream of Tiger King. – If possible, ask others in the house to stop streaming or online gaming during your interview.
Make sure the lighting is good. It doesn't need to be flattering — it just needs to be bright. This will provide a better camera signal and make it easier for the candidate to understand what you are saying.
⚙️ Build a process. Then trust it.
The single most important thing you can do to improve remote hiring decisions is to formalize the hiring process and then trust in that process.
Hiring is inherently subjective. You'll make better decisions if you clearly define the process upfront and stick to it from candidate to candidate.
A well-designed process needs to strike a balance — it must be deep enough to truly get to know a candidate while being mindful of your company's time and the candidate's time.

Over the years, I've refined to a process which has helped me strike this balance and now adapted it for remote hiring:
Initial Review. Should we invest time in getting to know this candidate?
Screening. Is it worth spending more time with this candidate?
– Screening interview (30 minutes)
First Round. How well does the candidate stack up against what we are looking for in product hires?
– Product Execution interview (45 minutes)– Customer Insight interview (45 minutes)– Product Strategy interview (45 minutes)– Influencing People interview (45 minutes)
Second Round. How well does the candidate fit into the particular PM role and team?
– 2-3 Stakeholder interviews (45 minutes each)– Group presentation interview (60 minutes)
Final Match. Is this candidate the right fit for us, and are we the right fit for them?
– Company "Tour" (15-30 minute non-evaluative conversations)– Reference Checking (both standard and backchannel references)
Offer & Negotiation.
Onboarding. How do we ensure the candidate's first 1-2 weeks on the job sets them up for long-term success?
3-6 Month Performance Check-in. Did both the company and the candidate make the right decision?
Here are some steps you can take to build and launch a strong hiring process.
Kick off new roles with the hiring team.
Meet with all of the interviewers before starting the search. Discuss the interview process and the role each person will play in that process. This kick-off is an integral part of getting everyone on the same page and approaching remote hiring as consistently and thoughtfully as possible.
Formalize screening.
As resumes come in, hiring managers should ask themselves: "Is this someone I want to spend 30 minutes getting to know better?" Thirty minutes is a lot of time, and it's essential to have a high bar for how you spend that time.
Screening interviews should be formulaic. Ideally, one interviewer should screen all candidates for a role and use a consistent interview script from candidate to candidate. If you need to have multiple screeners, make sure they explicitly calibrate expectations between themselves so that screening decisions are fair and consistent.
The screener decides whether or not the candidate moves to the first round — a significant commitment for you and the candidate. Do you want your company to invest the time in this candidate? The answer should be an emphatic, "Yes!". If you are on the fence, a second screening rarely clarifies the signal.
In addition, the screening interview should be used to set the candidate's expectations about the remote hiring process. Most importantly, the candidate should be comfortable with extensive backchannel reference checking and a 3-6 month trial period — both necessary to reduce the risk of making the wrong decision.
Use the First Round to evaluate product skills.
The First Round is a significant time investment. At this point, it's critical to identify whether a candidate meets the bar for your product team. To do that, you have to know what the bar is.
I recommend using the Product Manager Competencies (which I describe in How to Become a Peak Product Manager) as a framework. Each interviewer should focus on one of the four competency areas: Product Execution, Customer Insight, Product Strategy, and Influencing People. Collectively, the interviewers will develop a comprehensive perspective on the candidate. Facebook follows a similar approach. They calibrate interviewers to assess three areas: Product Sense, Execution, and Leadership & Drive.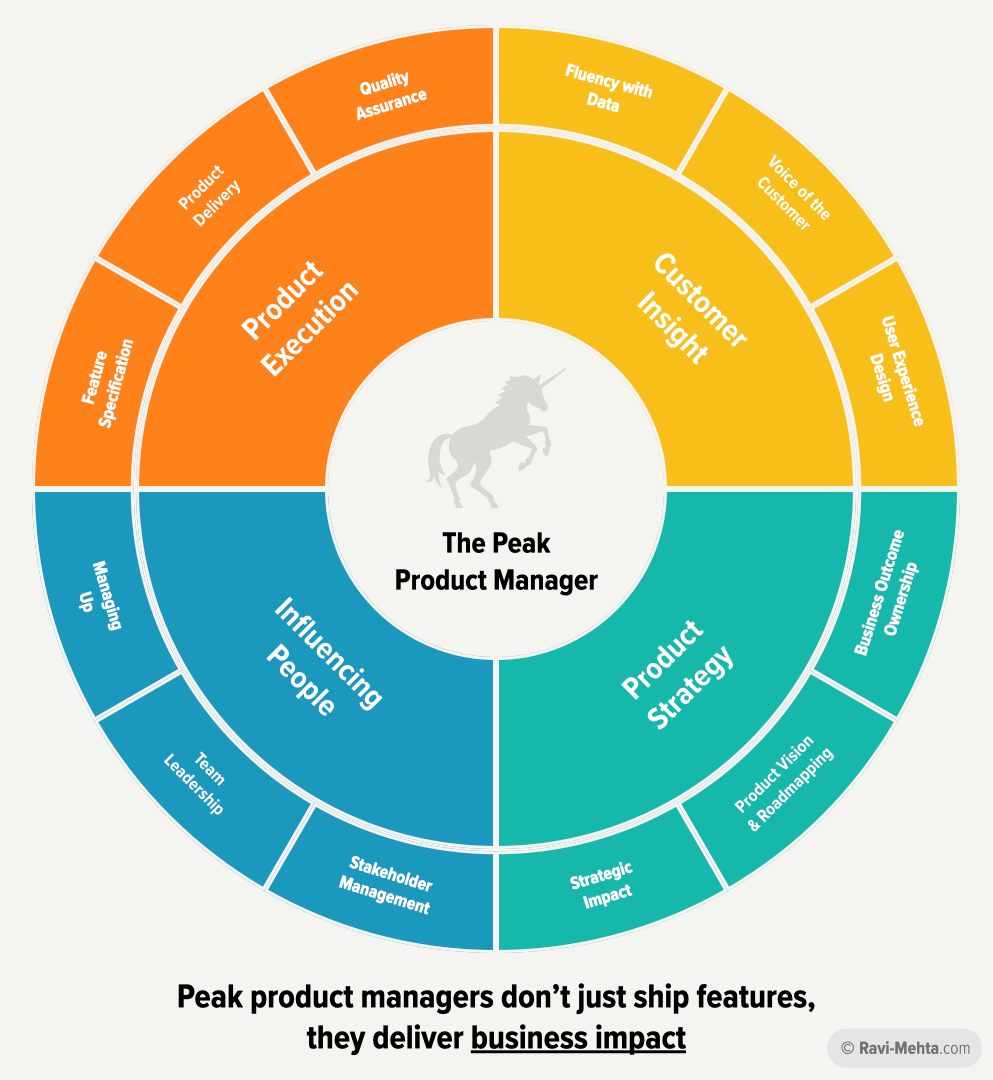 Ideally, you should designate one interviewer for each competency area and establish a fixed set of questions for that area. The goal here is to both increase consistency across candidates and build up interviewer "reps." As a result, you'll not only hire the right candidate; you'll improve your hiring capability for the next search.
If you'd like to use the Product Manager Competencies to evaluate candidates, I recommend downloading the free Product Competency Toolkit, which contains evaluation worksheets and a detailed description of every competency.
Optimize debriefs to make effective group decisions.
After the First Round, your team will need to decide whether to pass the candidate on to the next round. A couple of rules will help you make crisp group decisions more quickly:
Schedule a 30 minute video call to debrief and make the decision on the next steps. Require all interviewers to attend.
You should designate two roles for the debrief: the moderator (a neutral 3rd party such as a hiring coordinator) and the decider (the person who makes the final decision based on the group's feedback).
Require all interviewers to send written feedback and their decision to the moderator 24 hours before the debrief.
Require all interviewers to make either a Hire or No Hire decision. No equivocation allowed.
Have each interviewer rate the confidence in their decision on a three-tier scale: 1) I'm highly confident in my decision and will defend it, 2) I'm confident in my decision, or 3) I'm not confident in my decision.
Before the debrief, have the moderator send out all the feedback and ask the group to read the feedback prior to the meeting.
At the debrief, ask each person to discuss their decision briefly. The decider should ask questions, make a final call, and discuss it with the group.
Use the Second Round to deep dive on team fit.
If the debrief goes well, the candidate moves onto the Second Round.
The distinction between the First Round and Second Round is important. The First Round evaluates the candidate as a generalist, and the Second Round evaluates the candidate for the team they'll be working with day-to-day.
Facebook, Google, and others take a similar approach. These companies prioritize hiring athletes who can add value on day one and are flexible enough to take on a variety of roles as the company evolves.
During the Second Round, the candidate should meet with 2-3 key stakeholders such as the Engineering Manager or Design Lead for the team. Again, you should ideally designate a single person for each key stakeholder interview, so you have a consistent perspective across all candidates.
The cornerstone of the Second Round is a group presentation interview, which I'll discuss in more detail below. The presentation is a critical step, particularly for remote interviews. Your team gets to see how candidates think about a tough product problem, and candidates get an opportunity to meet more of your team and see how they work together.
The Second Round doesn't need to be as formulaic, but consistency will help.
After the Second Round, debrief using the same process as the first round. The decider should make the final call if feedback is mixed.
Use the Final Match round to confirm cultural fit.
At this point, the candidate looks strong, and you are nearly ready to make an offer. Now it's time to close the distance inherent in remote hiring.
During an on-site interview, there are casual opportunities for people to gauge your company's vibe. The energy in the office, the decor, and the impromptu conversations all help to paint a picture of your team's culture. This is missing with remote hiring, but you can fill the gap — give high potential candidates the opportunity to get to know your company outside of the interview process. I discuss this more below.
In addition to helping the candidate get to know you better, you need to get to know them better. The best way is through the eyes of people they have worked with in the past. Traditionally, companies do this by checking references provided by the candidate. But standard reference checking suffers from "selection bias." You can get a more well-rounded perspective on a candidate by reaching out to your network to find common connections the candidate has worked with in the past. I discuss how to conduct backchannel referencing effectively and ethically below.
Use the offer and negotiation process to set clear expectations.
Your standard process for making and negotiating should work well for remote offers, but there are a few things to flag:
Set clear expectations about working from home. May the candidate work from home permanently, or is the candidate expected to work on-site when social distancing restrictions are lifted? Is the company making any changes to its work-from-home policy in response to the pandemic?
Discuss work-from-home benefits. What costs, if any, will the company cover while the candidate is working from home?
Negotiate a 3-6 month trial period. All of the steps you've taken will maximize the chance of hiring the right person, but hiring is an imperfect process — especially in today's world. Make it clear to the candidate that they'll have an initial performance check-in to evaluate whether or not the role is a good fit. I discuss this more below.
If necessary, discuss deferred relocation benefits. The candidate may ultimately need to relocate for the role. Discuss what the relocation benefits package looks like given the current situation.
Set your new hire up for success.
You've spent a lot of time and energy to find the right person for the role, and they have spent a lot of time and energy to find you. The most important part of hiring new PMs happens after the hire. I discuss both onboarding and the initial performance check-in below.
🤝 Work together, before you work together.
Imagine it's the year 1501. You're sitting across from a young sculptor with a growing reputation. You're considering commissioning him for a work depicting the biblical figure David. You ask the sculptor, "How do you approach sculpting?". Michelangelo famously responds (paraphrased), "Well, I just remove the marble that I don't want."
It's a perfectly accurate answer and entirely useless in evaluating his skills. Certainly, you can (and should) ask more probing questions — but there is no substitute for seeing someone work.
The group presentation interview is an opportunity to see how someone works before you make an offer. In addition, the format gives candidates a chance to meet more people on the team, see how they interact with each other, and get a feel for how your team thinks through product decisions.
For that reason, I've found the group presentation interview to be the most insightful part of the hiring process.
Define a meaningful prompt.
A successful presentation interview begins with a meaningful prompt that enables candidates to demonstrate the skills you are looking for. The prompt can be related to a company's products (for example, design a feature that allows viewers to engage with celebrities and influencers within Netflix) or independent (for example, choose a product you love and design a social feature for that product that doesn't exist today).
There are differing philosophies about whether the prompt should or shouldn't be based on a problem specific to your company. The advantage of basing the prompt on the company's products is that you will get a deep insight into how the candidate thinks about your domain, but the downside is that everyone in the room will know a lot more than the candidate, which can put candidates at a disadvantage.
In addition to the prompt, provide some questions to the candidate to help them structure their presentation. For example, if the prompt is "Define a social feature for a product that you love and use often.", the questions could be:
Briefly describe the product you selected and why you selected it.
What problem are you solving for?
Why do you believe that problem is meaningful to users?
What does the user interface look like for your solution?
How would you go about building and testing the feature?
What metrics would you use to evaluate the success of the feature?
I like to send the prompt to candidates one week in advance so that all candidates have the same amount of time to prepare. This also sets the expectation that the candidate shouldn't spend too much time on the presentation — the goal is to see how candidates think, not create a masterpiece.
A small number of candidates won't want to invest the time to prepare a presentation. Over the years, I've found this to be a good thing – the presentation weeds out people who aren't serious and engages the candidates who are. The best candidates relish the opportunity to show off how they think and meet more of the team.
Make it a conversation.
The presentation shouldn't be one-way lecture. Instead, you and the candidate will get the most out of the exercise if it's a two-way conversation. To that end, I typically tell candidates to prepare 20-30 minutes of material and plan for 15-20 minutes of discussion.
Most presentations last about 45 minutes, but I suggest having attendees set aside 60 minutes, so there is a little bit of buffer. The extra time often gets used up if there are technical difficulties at the outset or if the discussion really gets going (a good sign!).
Invite the team.
The presentation is a great way to have the candidate meet more of the team they'll work with day-to-day. You'll get to see how the candidate engages the team in a product problem, and the candidate will be able to see how the team thinks and how they work with each other. I suggest having PM, design, engineering, data science, user research, and other key stakeholders attend the presentation. About 6-8 attendees make for a good conversation.
Give the attendees some guidance before the presentation. The goal is to get a good conversation going. Attendees should be encouraged to ask questions, but mindful of not overwhelming the candidate. As the hiring manager, I'll often jump in with a question if there has been a lull or move things along if the discussion goes off track.
Everyone that attends the presentation should have an opportunity to provide a hire/no hire recommendation. As with the First Round interview, you'll need to designate a decider whose is responsible for synthesizing feedback and making the final decision.
A presentation interview simulates what it will be like for you and the candidate to work together. This requires some extra investment, but it's the best way I've found to find a perfect match, and it helps promising recruits start on the right foot.
🔍 Check backchannel references.
Checking references provided by the candidate is a routine part of the hiring process, but it offers limited signal. By definition, standard reference checking suffers from selection bias — candidates select the 2-4 people who have the best things to say about them.
You can get a better signal by reaching out to your employees' networks to find common connections the candidate has worked with in the past. This provides an opportunity to get a true "random sample" of people who have worked with a candidate and, as a result, offers a more well-rounded perspective on the candidate's experiences and relationships.
Backchannel referencing is a valuable tool for hiring managers. However, it comes with drawbacks for the candidate. It may invade their privacy and can have ramifications if a candidate's current employer finds out they've been interviewing. Early in my career, I experienced this personally — it wasn't fun. For that reason, I've shied away from backchannel referencing.
However, I believe backchannel referencing is an essential part of the remote hiring process. It paints a more complete picture of a candidate and gives hiring managers the extra confidence to move ahead with an offer.
I recommend working with each candidate to make backchannel referencing more effective for the hiring manager and more mindful of the candidate's position. Tell them upfront that you will be doing backchannel referencing during the interview process and get their permission. Help them understand why backchannel referencing is an important part of the process and give them the opportunity to opt-out of the role or set some limitations (such as not contacting their most recent employer or specific people they've worked with in the past.).
Ultimately, backchannel referencing is an important part of the remote hiring process. It can give hiring managers the extra signal needed to be confident about moving forward. It has some downsides you can mitigate by being transparent with candidates at the outset.
😍 Help candidates get to know you.
During on-site interviews, candidates get a glimpse into your company and your culture. Your office is filled with queues — from the way it's decorated to the way the cafe feels during lunch hour. These queues are missing during a remote hiring process, but you can fill the gap.
Candidates who have made it through the Second Round interview are high potential, and it's worth spending the extra time so that they feel just as great about the fit as you do. Start by allowing candidates to casually chat with folks to learn what working at your company is like. Instead of providing a formulaic approach, ask the candidate what they are most interested in learning about.
They may want to meet people from an employee affinity group, talk to peers like fellow new grads or vets, learn about company events from your event coordinator, get a photo tour of the office, talk to a PM who has recently launched a feature, or get to know other new hires. Be clear with the candidate that these conversations are for them and won't be used in the offer process.
This personalized approach will make people feel great about your company's culture and set them up for success when they join.
🚀 Make onboarding a priority.
The onboarding process is as crucial as the interviewing process, but few companies take the time to develop a sufficient onboarding experience for new employees.
Onboarding is even more important when hiring and working remotely. In an office setting, impromptu interactions help connect new hires to their team and the company — this includes everything from joining the team as they head to lunch to having the CPO drop by to introduce themselves. These interactions are limited when working remotely. Even if an employee will work from the office eventually, their early opportunity to ramp up will shape their long-term ability to succeed.
Here are some strategies to effectively onboard PMs who have been hired remotely or will work remotely:
Provide a list of people to meet within their first two weeks. This should include key people from the product team and stakeholders they will be working with often. You should also include a couple of senior leaders — these relationships are important, and remote workers often don't get enough face-time with those leaders.
Assign the PM two mentors: a peer mentor and a leadership mentor.
– The peer mentor is another PM at a similar level in the company — their goal is to help the new hire learn how your company ships product and answer all the "stupid questions" a new hire may not want to ask their boss or a senior leader. – The leadership mentor is a Director or VP level leader in the company who can help the new hire understand the company's strategy and navigate their career.– At smaller startups, a single mentor can work since most people are wearing multiple hats anyway. In this case, mentors need to be mindful to give new hires the space to ask the "stupid" questions there are vital to ramping up but may seem basic to existing teammates.
Provide a product field manual. Include an overview of the strategy, recent product launches, key metrics, acronyms, launch process & schedule, list of essential tools (JIRA, Figma, Slack, etc.) and how they are used, and a link to the archive of specs/test results.
– Oh wait, you don't have an archive of specs/test results? Pull one together. You'll need it now.
Provide a list of important meetings. The most common mistake I see in onboarding is leaving new people out of critical team meetings — which reduces their ability to make the right decisions and form the right relationships.
Mandatory fun! Schedule a couple of social gatherings apart from the typical work meetings. This could include a team lunch on Zoom, an online trivia night, etc. The goal is to help new hires get to know the team and recreate some of the social vibe of being in an office together.
In the best of times, it's hard to go from the outside to the inside of a new company. Make sure to open the door so your new teammate can get off to a great start. You put all this effort into finding the right person — don't set them up for failure at the last mile.
📆 Start with an explicit 3-6 month trial period.
Hiring is a challenging and subjective process. No matter how hard you try, you can't eliminate all the risk. The first 90-180 days are critical to making sure a new hire is set up for long-term success — this is especially true for PMs who play such a connective role in the organization.
My most controversial recommendation: start with an explicit 3-6 month trial process, and conduct a performance check-in at the end of the trial to ensure the role is a good fit for the company and the PM. If it is, then use the check-in as an opportunity to celebrate the work done so far and provide coaching to build on the early success. If it isn't a good fit, then it's vital to make the hard decision to part ways — ideally with some severance and support for the person to find their next opportunity.
This sounds harsh, but I don't think it's harsher than the reality. Companies do this anyway — sometimes knowingly and sometimes unknowingly. Often new hires are blindsided when a new role ends within the first year.
It's more fair to the candidate to set clear expectations for the first 3-6 months in the new role. Even more importantly, an explicit trial period ensures that hiring managers are proactively providing the feedback candidates need to excel.
If a manager has done their job, the conversation at the performance check-in won't come as a surprise — one way or the other.
---
The most important job for a product leader is hiring the right product managers. A strong team will figure out the path forward, and a weak team will struggle no matter how good the guidance.
We not only need to learn new ways of working; we also need to learn new ways of hiring. I hope the tools provided here will help you make the best high-stakes decisions in this high-stakes moment.